Traffic on I-70 Colorado: Avoiding I-70 and the Eisenhower Tunnel
Colorado is known for its winter weather and ski seasons. Folks from all around the world flock to the Colorado Rockies in search of pristine pow and beautiful, mountain runs. Unfortunately, when traveling to Denver International Airport — the largest and closest nearby travel hub — there's still the matter of commuting to said mountain scapes via the Front Range. Popular Colorado Interstate-70 has always been the route most traveled and, over the years, has proven to be nightmarish for locals and visitors alike. 
As Colorado continues to grow, traffic similarly has seen an exponential rise. This has proven problematic. In fact, a recent study shows people are attempting to avoid traffic on I-70 Colorado altogether, especially when traveling on weekends. And while the study was conducted to include the ski season, there's much to be said for traffic via this route, year-round. Keep reading on tips on avoid traffic on I-70 Colorado. 
How to Avoid I-70
If you are here because you are trying to avoid I-70 and its traffic you are in the right place. Unfortunately, while there are a couple routes you can take there is no secret clear cut alternative in order to completely skip I-70.
The main issue is if you are trying to access places like Keystone, Breckenridge, Vail and beyond, the routes that will allow you to completely avoid I-70, will also add significant time to your trip.  
Avoid I-70 via HWY 285
That all being said, you can take highway 285 up from the south and is not a terrible option if I-70 is closed due to weather, you are coming from South Denver or going to Breckenridge. View the 285 route for yourself here.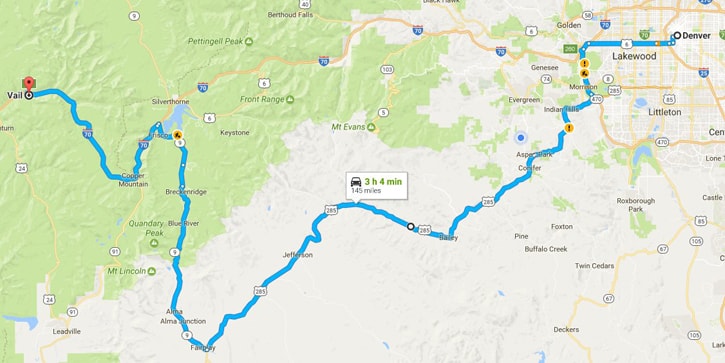 While this is the next best alternative to go west while skipping the majority of I-70 it will take you about 2 hours and 45 minutes without traffic compared to about an hour and 45 minutes with clear traffic on I-70's normal route (likely an hour more minimum).
Avoid Traffic on I-70 Colorado via Frontage Roads
Another alternative to try to avoid I-70's traffic is taking the frontage roads along I-70 as much as possible.  While this route follows I-70 and will still take you on parts of I-70 where frontage roads are not available, it will take you on the most direct route while skipping parts of I-70.  This route will take you about 2 hours without any traffic or about 15 – 30 minutes longer then the original route with clear traffic. View the frontage route to avoid I-70 here.

If neither of these options fits what you are looking for in order to avoid I-70 we have put together a couple helpful tips in order to avoid the I-70 traffic. 
Avoid I-70 Traffic
Check Google Maps For Current I-70 Traffic
Google Maps stays updated with the latest traffic so you can see where accidents are at and how long the trip is going to take you. 
Check Cameras on I-70 and Traffic Conditions
Colorado Department of Transportation also has updating info along I-70 that will show you cameras, images, weather and overall traffic reports.
Avoid Peak Times – If you can, it is best to avoid the following times and days:
Fridays (West Bound) – Especially 4pm – 8pm
Sundays (East Bound) – Especially 12pm – 6pm
Holidays – Especially: Memorial Day, 4th of July & Labor Day
Why is I-70 So Busy?
The infamous section of Interstate 70 that connects Denver with a variety of ski resorts is well known for heavy traffic. Whether you live in Colorado or just came to visit for a ski vacation, most people who've stepped foot in this state have heard stories about the fabled highway. There are a number of reasons travelers heading west of the Eisenhower tunnel can experience longer than expected drive times to reach their destination. In fact, traffic on I-70 Colorado has steadily increased over the years and has caused the state of Colorado to consider new infrastructure. 

Weather
The portion of I-70 that stretches from Denver to Eagle County serving the resorts of Vail, Keystone, Breckenridge, A Basin, Copper and beyond is no ordinary highway. This is a windy, multi-lane interstate that literally passes through enormous mountains at high altitudes with lots of truck traffic.
For this reason, for many of the winter months, the road conditions leading to and from the Eisenhower Tunnel and Vail Pass are very poor, making drivers reduce their speeds and sometimes causing serious accidents. The weather in Colorado seems to be getting more volatile in recent years and during winter months conditions can be somewhat unpredictable.

Drivers Unfamiliar with Winter Conditions
If you grew up or lived a significant portion of your life in Colorado then you are somewhat familiar with driving in snow. Traffic delays and causes of accidents on I-70 are often caused by drivers novice to winter conditions.
The state they come from might rarely see snow, so they are unaware of how to react to sliding on ice or low visibility in blizzard-like conditions. As Colorado has developed into a major ski tourism destination the number of drivers that aren't used to the often harrowing conditions is increasing.
Population Growth
While the stretch of I-70 from Georgetown to Eisenhower Tunnel and ultimately Vail Pass has always been a fairly dangerous and frustrating stretch of highway, the recent population growth and increased traffic moving through the state has made things even worse. Denver now ranks as one of the top cities to move to in the US, attracting people from all over the country.
The unemployment rate is falling as the economy improves, it is one of the healthiest cities in the country, and there are a plethora of fantastic outdoor activities to enjoy. Just a quick look at the amount of cranes dotting the Denver skyline and you can see the influx of new apartment buildings going up to support the population growth.
While more people coming to Colorado is good for business and makes it an exciting place to be, Interstate 70 is suffering. What used to be a 2-hour drive to and from a ski resort like Vail can often be doubled due to the huge number of new Coloradans wanting to hit the slopes.
The recent expansions to the twin tunnels on I-70 to 3 lanes have assisted with the congestion up to the US Hwy 40 turn off. However, beyond that point there are few realistic options to expand the ski highway, so, for now, people will just have to get used to sitting in their cars, driving early mornings/late nights to try and avoid the masses, or exit I-70 at US Hwy 40 and head to Winter Park.

Eisenhower Tunnel Choke Point
One of the worst choke points for slow traffic conditions on I-70 is the Eisenhower Tunnel. At this location traffic is reduced to two lanes and drivers are forced to reduce their speed while passing through the tunnel. This tunnel literally passes through the continental divide, so it's not uncommon for weather conditions to be drastically different on each side of the mountain. Both east and westbound traffic suffer at this major congestion point because most of the ski resorts are west of the tunnel when you are heading from Denver.
The Winter Park Alternative
As Vail Resorts continues to expand their empire of buying up ski resorts from Colorado to Japan, traditionally many tourists and locals will purchase the EPIC ski pass and spend the majority of their time skiing Keystone, Breckenridge, A-Basin, Vail and Beaver Creek. The problem is that all of these resorts are west of the Eisenhower tunnel on I-70 so the popularity of these mountains is contributing to the horrendous congestion at this choke point.
As this problem continues to grow and day trip skiers find themselves sitting in their cars longer than they are on the slopes, many Colorado skiers are seeking alternative mountains. For people who grew up on the Front Range, Winter Park has been the best-kept secret among Coloradans. I-70's problem coupled with Winter Park's drastically improved ski area since Intrawest took over operations has become a great option for those seeking a convenient mountain recreational experience.
How is the skiing in Winter Park?
The skiing is comparable to all the other major resorts, but the drive is much easier. For people who choose to make Winter Park their winter destination for a second home or just a day of skiing, never need to deal with the dreaded Eisenhower tunnel choke point or Vail Pass. The short portion of I-70 between Denver and US Highway 40 (the exit for Winter Park) before the Interstate climbs up to the Eisenhower Tunnel is benefited by the latest improvements to I-70 resulting in shorter drive times altogether.
The beautiful 24-mile drive on US Hwy 40 from I-70 to Winter Park seldom experiences delays, making Winter Park the easiest of all major Colorado resorts to access from the front range.

I-70 Traffic Resources
Google Maps – Get Updates on Traffic Times
Colorado Trips – Updates on Conditions, Speeds and More!
Comparing I-70 Traffic to Vail vs Winter Park
If you compare the drive times of Winter Park  to that of Vail on a Friday you can definitely see the impact of the range of drive time traveling to Vail could take you over traveling to Winter Park. Traffic on I-70 Colorado is, indeed, nightmarish during peak times and busy seasons.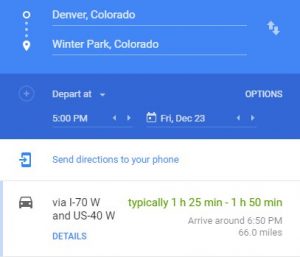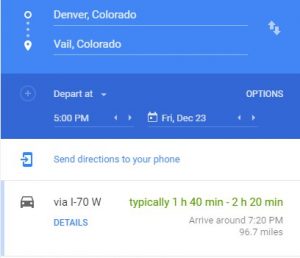 Click on the links below to explore the travel times and routes for yourself:
Fun Facts About I-70
It wasn't until 1961 that the interstate showed up on Colorado maps! 
The highest point of I-70 is the Eisenhower tunnel at 11,155 feet making it the highest vehicular tunnel in the US. 
One month into the new Eisenhower Tunnel it carried its one-millionth vehicle. 
The first bore of a major highway tunnel through the continental divide on what is today's I-70 began in 1968. Completed in 1973, this was the current westbound bore of I-70, named the Eisenhower Memorial Tunnel. Its contract, for $54.14 million, was the largest single federal aid highway contract ever awarded in the United States up until that time.