Winter Park might be famous for its fantastic skiing, but it offers so much more than that! The area is home to amazing adventures all year long, and few are as exciting at zip lining. There is nothing like soaring through the sky at 40 miles per hour, watching as Colorado's natural beauty soars past you. There are a few different zip lining courses in the area to choose from, and in this guide, we will look at the best options around.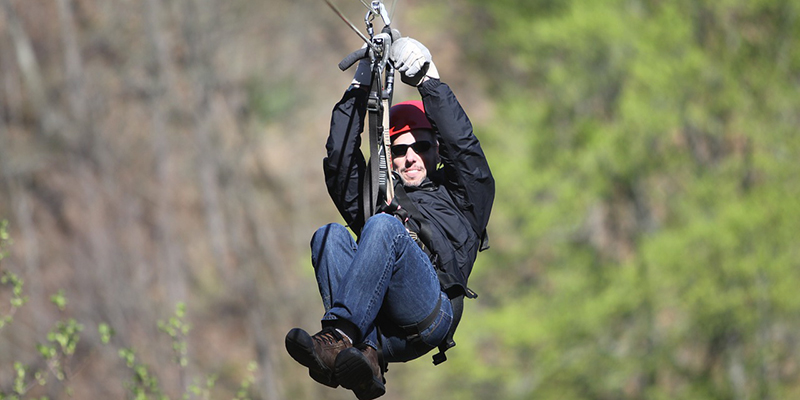 Devil's Thumb Ranch Resort & Spa
 $55-99 for children and adults
1.5 – 3 hours
5 lines
Located just a 20-minute drive East of Winter Park is Devil's Thumb Ranch Resort & Spa. From the Spring through the Fall visitors to the ranch can enjoy zipline tours on sight. The five ziplines are open to thrill seekers of all ages and experience levels; they only need to be between 75 and 275 pounds for their safety. Visitors can choose between two tours, a 90-minute tour that focuses on just one line and a three-hour tour that includes all five lines on the ranch. The single line tour costs $55 while the full tour costs $99. The costs of both tours include transportation to get you where you need to be and a beverage to help you stay hydrated, the folks at Devil's Thumb know how to treat guests the right way.
AVA Colorado Zipline's Cliffside Zipline
$79-89 for children, $99-109 for adults
3 hours
6 lines
AVA Colorado Zipline runs zipline locations in Buena Vista and Idaho Springs, and the Cliffside Zipline Tour is the option closest to winter park. As the name suggests, the ziplines here are built directly into the the cliffs of the Colorado Rockies to provide some of the most high-octane natural thrills available in Colorado. It's a 40 minute drive from Winter Park but it's worth every minute to experience the over 2,000 feet of zipline you'll find on the location. These are split up between 6 different lines, and a three hour pass will allow you to experience all of them. If you're truly adventurous, you can look into Cliffside Zipline's nighttime tours. On special evenings this course allows you to go ziplining by the light of the moon, creating a unique experience that you'll never forget! AVA also runs rafting adventures and partners with local companies to offer packages that include rock climbing, so if you want a full day of varied excitement, they're the people to call.

Snow Mountain Ranch
$20 for children and adults
1.5 hours 1 line
Just a 20-minute drive to the Northwest of Winter Park you'll find Snow Mountain ranch, which is now a part of the YMCA of the Rockies. The Ranch has a packed schedule of activities during the Spring and Summer, but none are as thrilling as the zipline. Their line is suspended 35 feet up in the air and runs for 370 feet. It's not the biggest or fastest zipline in the area, but at just $20 per person, it's one of the most affordable zipline tours available. It's all the excitement at a fraction of the price. This zipline is open to those who are eight years or older and who weigh between 50 and 250 pounds. The line is open from late May to late August, but exact dates vary so be sure to check on the schedule before heading over.
Winter Park Adventure Quest
$45 for children and adults
1.5 hours
24 elements
We end our list by switching things up a little. Winter Park Adventure Quest doesn't offer ziplines in the traditional sense, but they operate an aerial adventure park that offers many of the same thrills. WPAQ is a 35-foot structure that has two different levels that contain 24 different elements. In the middle, there is a climbing wall and the other elements branch out from that central element. There's nothing matching the speed of ziplines, but there's still plenty of high-altitude action for people of all skill levels. Visitors can choose between two different levels of elevation and three levels of difficulty so that everyone can find something they'll enjoy. Another great thing about WPAQ is its convenience; it's just a 5-minute drive away from Winter Park. It's open every Saturday and Sunday from 10 AM to 4 PM, but parties of two or more can make appointments to visit WPAQ any day of the week as long as they make arrangements in advance. Anyone in Winter Park with a taste for aerial adventure should swing by WPAQ for an afternoon of excitement!