Looking for cross country skiing in Winter Park and the surrounding Fraser Valley?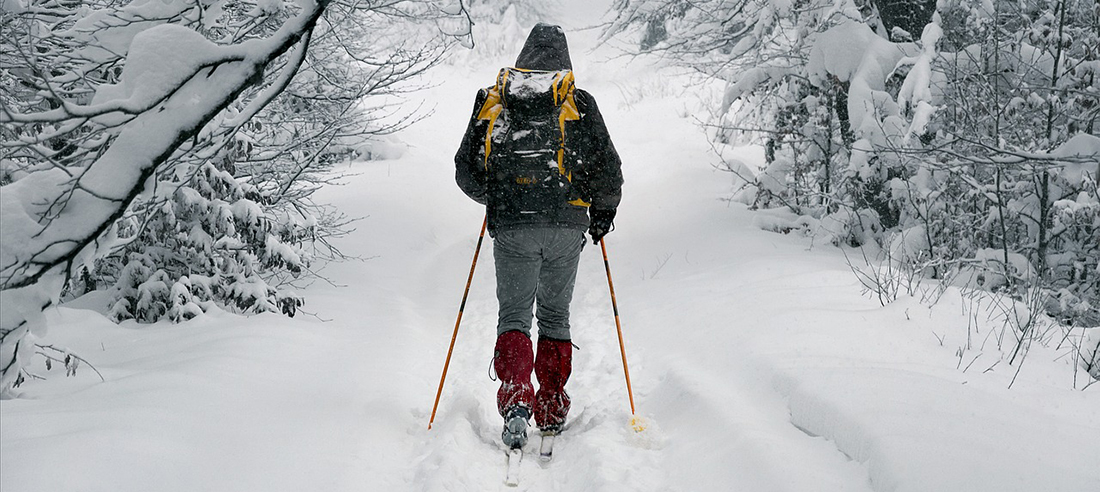 Cross Country Ski Locations
Of course, the final part of cross country skiing is where you decide to start your journey. Every trail will result in a different experience. From the elevation to the surrounding environment, to the length of the trail- each trail will be suited for different experience levels. Each of the following Grand County cross country ski centers offers a choice of trails for all ages and skill levels.
Some trails even allow guests to bring their dogs along with them. If you've ever felt like walking the dog is a chore, then bringing them along on a trip through one of these trails will change your mind.
Grand Lake Nordic Center
Rental Skis Offered
Dogs Allowed
With views of both the Rocky Mountain National Park as well as the Arapahoe National Forest, the trails at Grand Lake Nordic Center offer some of the most amazing views out there.
Devil's Thumb Ranch Adventure Center
Lessons Offered
Rental Skis Offered
Dogs Allowed
Featuring over 120km of trails, Devil's Thumb Ranch boasts the longest length of trails on this list. Guests are able to purchase a daily trail pass which covers the cost of both their rental and their trip for that day.
Ski Granby Ranch
Rental Skis Offered
Pets Allowed
Granby Ranch's ski trails are comprised of two different trail systems- the East Mountain Trail System and the Golf Course Trail system. Each system is comprised of smaller sub-trails which guests can navigate through in the order they like at their leisure. After their hike, guests are welcomed to visit the Granby Ranch grill to warm up and enjoy hot food and beverages.

What Is Cross Country Skiing?
When one says the word "ski," most will immediately picture trails running down large hills and mountains, with brave thrill-seekers intrepidly speeding down them at high speeds. There is however another form of the sport known as 'cross-country skiing' which has been around for a long time and is becoming more and more popular every year. The equipment needed to do it is similar to regular skiing, however, the activity itself is a much different form of exercise. For those curious as to what cross country skiing entails and how they can get started, we've compiled this handy introductory guide to cross country skiing in Winter Park.
In regular skiing, speed is the name of the game. How fast one can get from the top of the trail to the bottom is the main thrill. In cross country skiing however, distance is what counts.
Those who have ever gone hiking in the snow will know that it is no easy feat. The use of skis or snowshoes however greatly ease this process, allowing one to glide across the surface of the snow and traverse long distances with ease. This is the core of cross country skiing, being able to experience some of the most beautiful hiking trails even during the height of Winter. Cross country skiing in Winter Park is no exception, with some of the best hikes also accessible during the winter months.

What Do I Need To Cross Country Ski?
Of course, the most important part of cross country skiing is the piece of equipment from which it it takes its name- the ski.
Unlike regular downhill skis though, cross country skis are built differently. Similar in concept to snowshoes, cross country skis are wider and thus do a better job of distributing the weight of the body across the surface of the snow.
There are plenty of fine establishments in Colorado which sell cross country snow skis. Those who would rather first rent their skis before investing in a pair of their own will be pleased to know that several trails offer rental services as well. For Winter Park ski rentals click here.

When Is The Best Time To Go Cross Country Skiing?
Naturally, Fraser Valley cross-country skiing is not possible without snow, for snow is the element that separates it from hiking and necessitates the extra equipment. As such, the cross country ski season can technically start as early as December, depending on the snow fall for that year. Those looking for the most beautiful views with the deepest snow will have better luck trying their hand at the trails come January through March.
The best times are when one is able to ski when the snow is sufficiently deep, but before too many others have gone through a trail. There's no sight like undisturbed snow in the wilderness.