Grand County Fires Update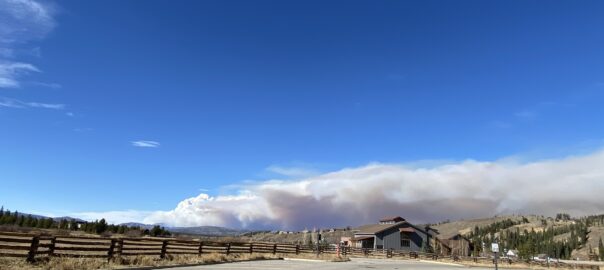 Dear Grand Park Homeowners,
As you are probably aware, Grand County has been severely impacted by wildfires. Grand Park and the Town of Fraser appear to be safe for now; however, the Grand County community is going to need a lot of assistance to recover from the fires. Many homes in the Grand Lake area have been lost.
Yesterday, Grand Park established a storage area for RVs, trailers, recreational equipment, boats, cars, etc. between Bank of the West and the Ski Broker. This is available to fire evacuees as well as Grand Park residents that may need to store these items during this time.
Grand Park is also pasturing livestock that has been evacuated, including horses, cattle, goats, sheep, etc. My wife Meredith is coordinating this effort and if you know of anyone needing assistance with livestock pasture, please put them in touch with Meredith at 970-531-8859.
We want to thank those of you that have assisted housing evacuees. This is an unprecedented time for Grand County, and it is going to take a strong community effort to get through this. Several workers here at Grand Park have lost their homes or been evacuated. If any of you would consider your home or rooms in your home to be available on a short term or long term basis please let me know or follow the Emergency Housing flyer attached put together by the Town of Winter Park and Fraser.
The Grand Foundation has established a Grand County Wildfire Emergency Fund. The Grand Park Community Foundation has donated $25,000 to this fund. If you would like to donate please go to the website at:
https://www.grandfoundation.com/Donate?fund=Wildfire%20Emergency%20Fund
In person donations of clothing, food, supplies, etc. are being accepted at the Fraser Valley Elementary. To find out about needs or donating, please contact:
Grand County Outbreak of Kindness 970-363-6460 psteinbacher@eternalhills.org
https://www.facebook.com/GCOutbreakofKindness
To receive daily updates about the fires, sign up at one of the below sites:
East Troublesome Fire Public Information Officer
Email: 2020.easttroublesomecreek@firenet.gov
Phone: 970-445-2910
Inciweb: https:inciweb.nwcg.gov/incident/7242/
Facebook: https://www.facebook.com/EastTroublesomeFire
Grand County is such a unique and wonderful place where we all live and play, and if we all work together and support those in need, the county will recover quickly. 
Sincerely,
Clark Lipscomb,
President