Winter Park is most famous for the world-class skiing, but it's much more than just that. The area has a lot of other great activities, even in the summer.
As a matter of fact, the mountains make a beautiful background to look at while you fish.  So whether you're a fly, spin, or bait cast fisherman, there is an option for you.
Multiple Rivers in the Area
Rivers are rare in the mountains, but there are a few different big ones around Winter Park.  Most notably, the Fraser River is nearby, and so is the Colorado.  Also, there are tons of streams, lakes, and other bodies of water that you can throw your hook in.
Kinds of Fish in the Area
With that many watering holes, you're of course going to find a wide variety of fish.  There are plenty of trout, and you might just hook a rainbow, cutthroat, brook, or German brown.  If salmon is more to your liking, you might be able to land a Mackinaw or Kokanee.
Summer and Winter Options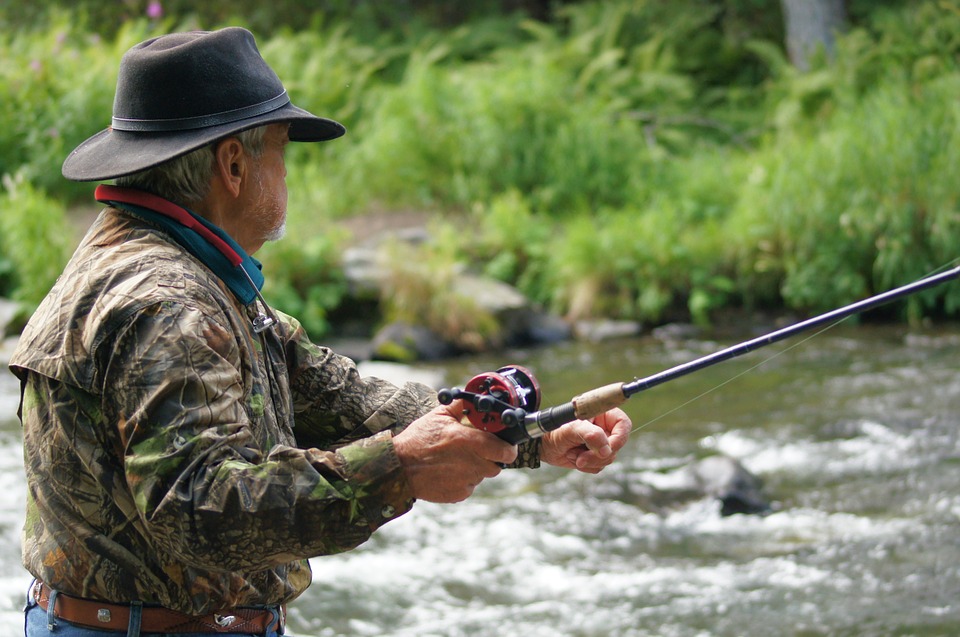 There is a wide variety of options for any anglers looking to try their skills in this area.  You can stand on the side of a lake, wade through a creek, or rent a boat to putter around.  Also, there are options for fans of the cold weather to get out there in the winter month and set up a hut for some ice fishing.
Fraser River: This river shares the name of the valley, and it's is the first major tributary into the Colorado River.  A lot of it is located in National Forest land, so it's accessible to anyone.  Anglers can get to it in many ways, and there are plenty of trails along the river so you can combine your fishing trip with a little bit of a hike.
Colorado River: This river is most famous for plowing its way through the Grand Canyon a bit south of here, but not many people realize the beauty of where it starts.  It meanders through plenty of forests and lakes near Winter Park, and it's a great addition to any fishing trip.
Grand Lake: The smallest of three lakes sitting next to each other, but this helps to keep the boat traffic down so it's a little bit more peaceful.
Shadow Mountain Lake: Sitting between Grand Lake and Lake Granby, this one is the medium-sized option.  However, it's still quite a lovely spot to soak in the beauty while trying to hook some fish.
Lake Granby: This lake isn't just the biggest of this group of three, but it's also the largest natural lake in the state of Colorado.  It goes without saying that this is your best bet if you want to hop in a boat and space yourself out from other people.
Getting Gear
If you aren't able to bring your own gear, there are numerous outfitters and fishing shops in Grand County, but don't forget how close Winter Park is to Denver.  Being only 67 miles away, you have all the options of the big city, and you can stop on your way from Denver International Airport and stock up.
Shops to Check Out
However, you really don't need to fight the Denver crowds, and most people get everything they need from the local shops.  Not only does this help support the mountain community, but these are also full of people with expert knowledge about the best places to go to meet your needs with the current conditions.  A nice store in Winter Park is Mo Henry's Trout Shop, and not only can they give you all the flies or bait you need, but they also rent fishing equipment and organize trips.  The Grand County Fishing Company is a great place in Fraser, and they offer guides, fishing reports, and gear.  Another option to check out is Mt. Evan's Trout Fishing in nearby Idaho Springs.
Get Your License!
Don't forget that there are some rules to keep the beauty alive!  Most people are required to have a license before doing any fishing in Colorado, and there are strict limits on how many of each type of fish can be caught.  Also, it's highly encouraged to catch and release so the ecosystem will keep flowing.
Make Winter Park your Fishing Outpost
Why is this different from any other mountain fishing areas?  Well, it has all the other amazing advantages that Winter Park has to offer, plus a lovely town with great restaurants and amenities to support you.
Wouldn't you like to have your own cabin in a mountain paradise?