Winter Park is a mountain playground that has tons to do every month of the year.  Knowing that, it's not surprising that in the summer the snow melts away to make way for some beautiful and challenging Winter Park golf courses.  Grabbing your clubs is a great way to get out in to the fresh mountain air without tackling any extreme sports, and there are options for people of all skill levels
Tips for Golfing at High Altitude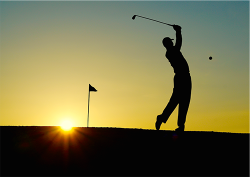 Yes, the rumors are true.  The ball does fly farther when you're at a high altitude, and it's incredible enough to make anyone feel like they're ready to take on the pros.  However, there are some extra precautions you need to take because of the altitude.  First, the sun is stronger, so make sure to have plenty of protection.  Next, you get dehydrated much faster, so drink plenty of water (and be aware that alcohol hits much harder).  Also, the weather can change quickly and rapidly, so be prepared in case that happens.
But overall, it's an amazing experience everyone should try!  Once you're ready, think about hitting one of these Winter Park golf courses.
This 18-hole course has great views and the perfect level of difficulty, and this makes it one of the most popular in Colorado.  It's conveniently located about 20 minutes from Winter Park.  There are various prices for different situations, but a one-day rate for 18 holes is $95 for adults aged 18 – 65.  This course is open from May 7th until some point in October, and they try to keep it going as long as the weather cooperates.
They have private and group lessons for men and women of all ages.  Also, they host a Nike Junior Golf camp twice a summer for kids aged 9 – 16, and it welcomes golfers of all skill levels.  It has a full-service pro shop to stock up on anything you left at home, and they offer rentals if you don't want to commit to buying something new.  They even have some golf leagues if you'd like to make a few friends, or engage in a bit of high-altitude competition.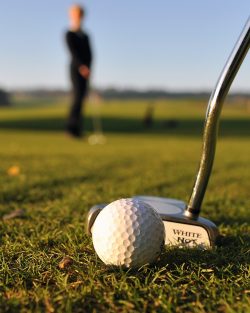 This course located in Granby is about a 25 minute drive from Winter Park, and it's worth the trip.  The rates can vary depending on different circumstances, but the standard price with a cart is $95 on weekends and holidays, and $85 on weekdays.  It's open throughout the summer, and stays open as long as possible into the fall.  It has a standard 18 holes, but the whole layout and design follows the Heathland style of course that are common in the British Isles.
They offer golf lessons, and they give them to individuals or groups of all ages.  They also have a popular restaurant, The Grille, which has a rustic, Cowboy vibe, and has plenty of great views of the beautiful surroundings.
This course is part of the Grand Lake Recreation Center, and it's about a 45-minute drive from Winter Park.  Fees vary depending on many factors (especially time of year), but this one is a cheaper option at $60 for 18 holes during the peak season between June 13 and September 5.  That doesn't include golf carts, but they can be rented with different rates depending on the number of holes.  Just like the others, it opens as soon as the weather allows in the spring, and stays until the cold starts coming in during the fall.
They offer group lessons for lower levels and private lessons for more advanced players.  Also, they give free group lessons to children between the ages of 7 and 17 on Thursday mornings.  This course really focuses on bringing people together, so they organize quite a few competitions and events every summer.
This course in Tabernash, CO is about a 20-minute drive from Winter Park.  Again, the rates depend on a number of different factors, but the prices during the peak season are $99 on the weekend and $93 during the week.  However, that includes a cart and practice balls.  Pole Creek has a total of three different courses with 27 total holes, so there are opportunities to spend some extra time here taking in a variety of scenery and challenges.
Both group and private lessons are offered to all ages and skill levels.  They also have a nice restaurant called Bistro 28 (the "28th hole" since they actually have 27), and it's fancy enough that it often hosts weddings.
Winter Park Golf Courses Not Limited to These
Although these are the closest courses to Winter Park, they're not all Colorado has to offer.  There are many others around the state, both in a mountain setting and normal courses, and a lot of them are worth a journey.  It's always a great excuse to take in more of the Colorado beauty!