No city is lightly dubbed "Mountain Bike Capital USA™". It takes a unique fusion of geological anatomy and an intrinsic spirit for adventure to bring to life the most incredible mountain biking in America. Winter Park personifies this ambiance with bouldering bones that lift trails high into the clouds of the Rocky Mountains at elevations above 9,000 ft.
This natural advantage boasts the most amazing mountain bike courses you could ever dream of with park trails spanning distances of over 2,000 vertical feet jaw dropping feet.  Winter Park puts new meaning to "its all down hill from here" by offering lift-serviced trails on two downhill mountain bike parks. The spring's thaw, on the once frozen ski slopes, paves way to jumps and obstacles that will challenge every skilled rider.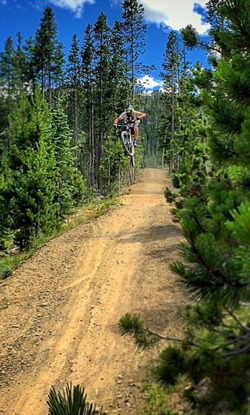 Winter Park's terrain and 600+ miles of cross country trails has magnetized citizens from around the world who's passion's exist on two wheels. The spoked-spirit of town's trails arose in the yesteryear's of logging and tunnel construction and are now pioneered by bicyclist.  The town's downhill disposition is exemplified by a wide variety of business that all cater to the active lifestyle of mountain bike enthusiasts. These bicycle buffs battle for some of the most intense and renowned races all competing for their right to be named the Mayor of "Mountain Bike Capital USA™!"

While Winter Park reigns as the undisputed cycling city due to its' intense gravity fed single-track courses, they also offer many more options for those who require a more timid experience. Winter Park offers rentals, lessons and guided tours throughout the valley with trails to suit those who's adrenaline level is not as fast paced. Winter Park hosts a 23-mile paved trail from Winter Park Resort to Granby and is easily accessed throughout the area. If you are interested in high mountain peaks or beautiful river valleys Winter Park's mountain bike scene has it all – and did I mention its all only 90 minutes from Denver?

If you are interested in learning more about mountain biking in Winter Park, pick up a FREE copy of The Official Mountain Bike & Trail Guide Grand County.
---
Rentals
If you are in need of a mountain bike rental in Winter Park you are in luck as you have your pick of the litter. There are more mountain bike shops then you could hope for in Winter Park; however, we believe the best one to be:
Trestle Bike Park USA at Winter Park Resort
See bike rental packages here.
Trestle offers everything you need from rentals, to training, to races, all on a world class mountain bike park with chair lifts to save your strength for the way down!
If you are interested in shopping around for the best price and quality there are a series of other bike shops throughout the valley listed below:
---
Races
Mountain biking in Winter Park has been hosting world class races for over 20 years building on the event races each new year. The races are held for all types of classes and ages; such as, novice, sport, expert, pro / semi-pro / single speed, clydesdale, open and junior series! Some of the races that have taken place and/or are still going on are as follows:
Excel Roofing Hill Climb
Super Loop
Race Rendezvous
Colorado Epic XC
Epic Point to Point
Excel Roofing King of the Rockies
Point to Point
Bike Granby Ranch Opening Day
Triple DHip
Epic Singletrack Series
Trax-n-Trails
Trestle Gravity Series
Trek Dirt Series
Colorado Freeride Festival
Colorado Dirt Cyclocross Endurance Race
Red Bull Final Descent
and Many More
Epic Single Track, a subsidiary of Winter Park Resort, keeps you updated on many of the races that take place every year in Winter Park.
---
Trails
Winter Park has an enormous amount of biking trails to access throughout the valley with over 600 miles! You can access every type of trail that you are looking for from beginner to pro! For a printable map of the bike trails please 
download this FREE trail map here
.
To get more information on teach trail individually click on any of the titles below!
---
Videos
---
Instagram
---
Helpful Links
Below are some helpful links that should give you all the info you need about mountain biking in Winter Park!
---