Colorado is well known as a winter playground, and there are tons of ski areas of all sizes that welcome people every year. One of the hardest parts, however, is finding out which one to visit. Whether you're living in Colorado and trying to decide which season pass to buy, or you'll be visiting for a few days and don't want to miss your chance, it can be quite a challenge to pick the right place.
Below are some of the best Colorado ski towns that are a must-see. If you're traveling through Colorado this winter, we recommend choosing among this list.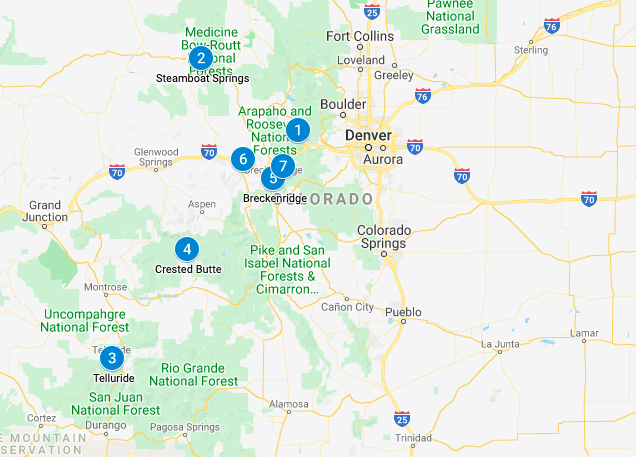 Here are 5 of the Colorado best ski towns, and reasons why they belong on this list.
Winter Park

Average annual snowfall: 220 inches (75 days)
Population: 999
Distance from Denver International Airport: 89 miles (about 1h 46m driving)
Number of trails: 166
Number of lifts: 25
Size of skiable acreage: 3,081
The closest major resort to the city of Denver.
This resort is owned by the city and county of Denver, and being only 60 miles away makes it a popular place for residents of the Mile High City. But, that location doesn't mean it's at all lacking in the ski department.  In fact, the town itself is 9,000 feet above sea level, and that makes it the highest incorporated town in the USA.
This tops the list among Colorado's best ski towns because it has great activities year-round. The ample trails provide challenges for skiers and snowboarders of all skill levels, and there's plenty of opportunities for mountain biking, fishing, camping, and hiking when the snow melts. Plus, Winter Park has some amazing golf in the summer.
For an extra adventure, take the Winter Park Express ski train to get there. It's run by Amtrak, and heads out of Union Station in Denver.
Steamboat Springs

Average annual snowfall: 179.6 inches (67 days)
Population: 12,088
Distance from Denver International Airport: 189 miles (about 3h 42m driving)
Number of trails: 165
Number of lifts: 23
Size of skiable acreage: 2,965 acres
Relax in the hot springs after a day on the slopes.
This area has been popular for a long time due to the warm water bubbling out of the ground, but the resort itself dates back to 1963. The combined mountains of the Steamboat Springs Ski Resort make up a complete mountain range, and there are trails available for every skill level. Nearly half are designated for experts, but that doesn't mean there's any shortage for lower-level skiers.
For special events, don't miss visiting during the annual Winter Carnival. You'll see ski jumping contests, skiers pulled behind a horse, and much more. In the summer, the Hot Air Balloon Rodeo brings bright balloons and beautiful art.
Telluride

Average annual snowfall: 175.5 inches (58 days)
Population: 2,303
Distance from Denver International Airport: 354 miles (about 6h 31m driving)
Number of trails: 127
Number of lifts: 28
Size of skiable acreage. 2,000 acres
Ride a free gondola between Telluride and its neighbor, Mountain Village.
Another Colorado best ski town is Telluride. This beautiful spot that also has some culture mixed in with its ski slopes and that helped it win the #1 Ski Resort in North America in the Condé Nast Readers' Choice Awards. It's a bit of a hike from Denver, but that helps serve the purpose of making sure that it isn't overcrowded.
The Telluride Ski Resort has great slopes for all levels, and there's a free gondola that connects it to Mountain Village, a neighboring town. That provides the opportunity to traverse the landscape between in both summer and winter. For good reason it's always included in most people's lists of the Colorado best ski towns.
Crested Butte

Average annual snowfall: 216 inches (66 days)
Population: 1,487
Distance from Denver International Airport: 252 miles (about 4h 27m driving)
Number of trails: 121
Number of lifts: 16
Size of skiable acreage: 1,547 acres
Out-of-the-way resort that's good for families.
Crested Butte is another that takes a little bit of extra time to get to, but it's an isolated resort that makes it easy and enjoyable for family getaways. They have all levels of trails, and they tend to be grouped together based on difficulty, so you don't have to spend as much time sitting on lifts.
As the former home of the Mountain Bike Hall of Fame, it doesn't disappoint in the summer, either. Their Evolution Bike Park has more than 25 miles of trails of all types, and there are plenty of natural and man-made obstacles to keep you challenged.
Breckenridge

Average annual snowfall: 175 inches (76 days)
Population: 4,500
Distance from Denver International Airport: 127 miles (about 2h 11m driving)
Number of trails: 155
Number of lifts: 32
Size of skiable acreage: 2,908 acres
A good all-around resort.
Breckenridge makes this list because it's a solid ski town and resort overall, and this is well-known enough to make it one of the most visited resorts around. The trails at Breckenridge Resort are spread out across five main peaks, and they mostly group together trails of various skill levels. Plus, unlike some other resorts, the percentage breakdown by difficulty level is almost even across beginner, intermediate, advanced, and expert.
The town itself is nice to relax in after a day of exploring the mountains, with a selection of restaurants, breweries, and live music.
Vail
Average annual snowfall: 281 inches (77 days)
Population: 5,483
Distance from Denver International Airport: 119.5 miles (about 2h 33m driving)
Number of trails: 193
Number of lifts: 31
Size of skiable acreage: 5,289 acres
Named one of the most popular and best Colorado ski towns, Vail is not only a great spot in the Rocky Mountains, it's one of the best ski resorts in the country. It's the second-largest resort with the twelfth largest vertical drop of over 3,000 feet. There are numerous runs to select for a multitude of ski enthusiasts, whatever your level. Plus, similar to other winter resorts Vail offers many different winter activities like dog sledding, snowmobiling, and snowshoeing. 
Vail was designed and built as the ultimate vacation spot. While other Colorado ski towns began as old mining towns, Vail is Colorado's most modern resort. It also has a variety of high-end boutiques, shops, and restaurants. 
Keystone

Average annual snowfall: 160 inches (71 days)
Population: 1,079
Distance from Denver International Airport: 127 miles (about 2h 11m driving)
Number of trails: 135
Number of lifts: 20
Size of skiable acreage: 3,148 acres
Try ice skating, sleigh rides, or one of the many four- and five-star restaurants after a day of skiing.
As it stands, Keystone is one of the most family-friendly areas in Colorado, especially during the winter ski season. The front range resort caters to families of all sizes and hosts a variety of events and features beyond the ski slopes. Experience village parades and cookie decorating events. The resort itself boasts fun trails with tunnels and bridges, plus there are plenty of options for various ski/snowboarding levels. 
If you're looking for something beyond the regular ski-atmosphere, a nighttime skate on the five-acre rink in Lakeside Village is a must. It is still the largest outdoor Zamboni-maintained rink in North America.