The Divide Music Festival is Coming to Town!
The Divide Music Festival, a fully-loaded event featuring camping and music, will be taking residents and visitors by storm this summer! This three-day event will be hosted at the Colorado Adventure Park in Fraser, Colorado, overlooking stunning mountain vistas. Attendees are invited to campout, explore, enjoy local flavors, and listen to a handful of A-list national acts and Colorado musicians alike!
Bleachers, Blondie, Cake, The Fray, Kid Cudi, Jr Jr, Miike Snow, and Passion Pit are just a few of the A-listers who will be performing at the three-day event.
So how should you go about planning for such a sweet inaugural event? We've got you covered!
Get Familiar With the Dates and Schedule:
Dates: Thursday – July 21st – Sunday – July 24th!
Thursday
Start setting up your camp!
Friday
Music Starts at 3pm:  KAYLA MARQUE, P O P F I L T E R, AMZY, BLEACHERS, CAKE, and EDWARD SHARPE & THE MAGNETIC ZEROS
Saturday 
Music Starts at 12pm: THE COTERIES, FOXFIELD FOUR, RUMOURS FOLLOW, SPLYT, SKYLAW, ONE FLEW WEST, SAINT MOTEL, PASSION PIT, and KID CUDI
Sunday
Music Starts at 12pm: GASOLINE LOLLIPOPS, PAPER LIGHTS, MODERN SUSPECTS, MEDIC, GIPSY MOON, REDLANDS, JR JR, BLONDIE, MIIKE SNOW, and THE FRAY
Next, Tell Your Friends! 
Festivals are better when you have friends to enjoy the music, food, and fun with! So tell your friends and get everyone excited for the inaugural Divide Music Festival!
Then Purchase the Right Pass:
The Options:
3-Day VIP – $345
3-Day General Admission – $155
Daily – $65
Decide Where You Will Stay (and book it soon!):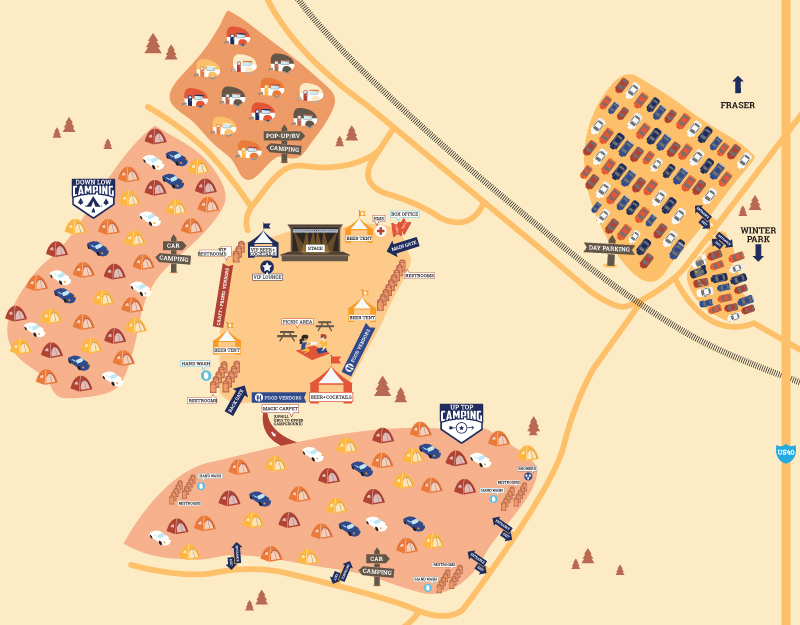 Tent/Car Camping – Experience the music and the outdoors from the comfort of your own tent (or your car)! $125 (10'x30' space) Reserve a Campsite here.
RV Camping – Don't want to sleep on the ground, but still want to experience the camping atmosphere next door to the music venue? Reserve an RV spot! $245 (20'x50' space) Reserve an RV Campsite here.
Preferred Lodging – Camping of any kind not your thing? Check out the event lodging partners for great lodging deals!

Plan Your Trip:
 How will you get here? The address is 566 County Rd. 72, Fraser, Colorado 80442 – the trip is up to you. Planes, trains, bikes, and automobiles are all valid options.
 What will you do? Fraser and Winter Park are epic for summer adventures! Don't miss out on exploring the area while you're here! There is plenty of great hiking, biking, fishing, and all-around adventuring to be enjoyed!
Start a Countdown!
Yes, we are recommending that you to be that person! Start a countdown and get excited for the festival!
Get to Know the ALL the Acts:
Here's a full list of all the artists who will be performing so that you can enjoy the show to the fullest potential!
National Acts:
The Fray
Saint Motel
Jr. Jr.
Edward Sharpe and The Magnetic Zeroes
Kid Cudi
Bleachers
Passion Pit
CAKE
Miike Snow
Blondie
Colorado's Local Acts:
AMZY
Rumours Follow
Splyt
Modern Suspects
Redlands
Paper LightsKayla Marque
Medic
POPFILTER
Gasoline Lollipops
The Coteries
One Flew West
Gipsy Moon
SkyLaw
Foxfield Four