Grand Park's Dog Days of Winter
Everyone knows Grand Park is quite the dog-friendly community, and our latest upcoming event only adds to that fact. We're just a couple weeks away from the 2014 Dog Days of Winter dog sled race!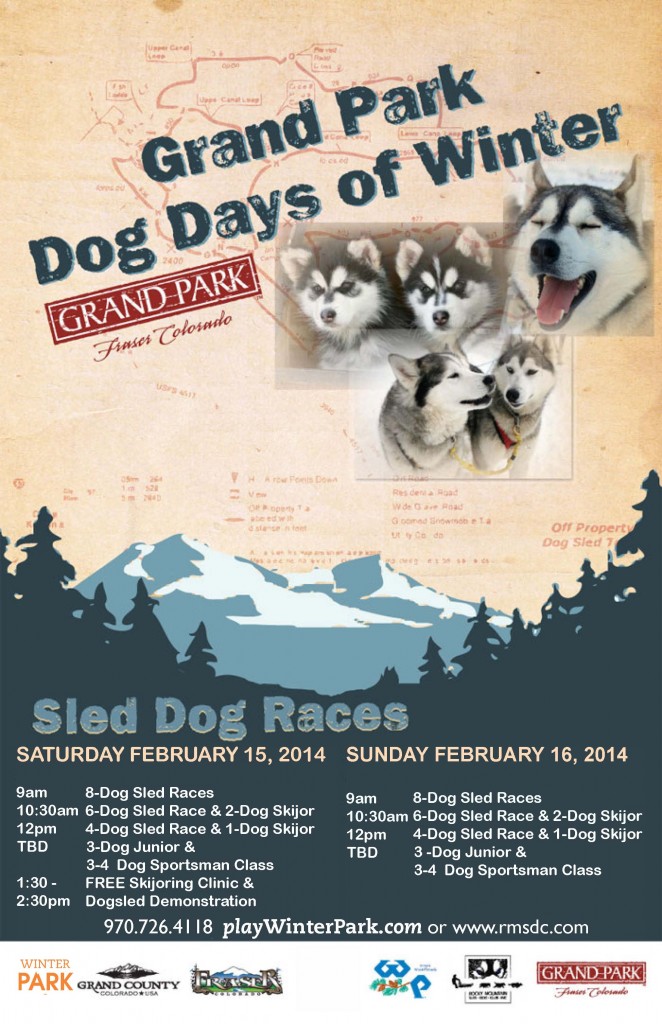 The event will take place the weekend of February 15-16, 2014, and will be held right in the beautiful Open Spaces of Grand Park. The event is presented by the Rocky Mountain Sled Dog Club, the Winter Park & Fraser Valley Chamber of Commerce, and, of course – Grand Park!
The Dog Days event is actually several different events, all rolled into one exciting weekend. Dog sled races will take place on both Saturday and Sunday, including 8-dog, 6-dog, and 4-dog races.
Dog Days will also feature skijoring, which is a winter sport in which a skier is pulled on skis by a dog. The skier wears a special skijoring harness, the dog wears a sled dog harness, and a length of rope connects the skier and the dog. Skiers propel themselves using cross-country skis and poles, with the dogs providing additional pulling power.
The Dog Days event will feature both 1- and 2-dog skijoring, with a FREE skijoring clinic and dogsled demonstration on Saturday! 3-dog junior & 3-4 dog sportsman classes will be held during Dog Days as well.
The Dog Days of Winter is fun for all ages, and is quite an enjoyable spectator event. Participants and spectators are invited to watch the event in the parking lot behind the Grand Park Recreation Center. The lot is conveniently located right along Grand Park's Open Space, which provides a perfect place to watch the races.
The event includes plans for local food vendors, as well as a big bonfire to keep spectators warm. Event sponsors will also be offering raffles, giveaways, and more!
Of course, residents will be able to see the races right from the comfort of their beautiful Grand Park mountain homes! From exciting events and endless activities, to some of the most luxurious homes in Grand County, there are plenty of reasons why Grand Park is the best real estate in Winter Park!
For more info about the Dog Days of Winter, or to learn more about Grand Park, contact us today. Give us a call at 970-726-8700 or email info@grandparkco.com.