Featured Grand Park business: Grand Park Community Recreation Center
This week's featured Grand Park Village business is the Grand Park Community Recreation Center. Opened in 2009, the Rec Center offers state-of-the-art new equipment and facilities, training and classes, and ample activities and fun for all ages!
The Rec Center's natatorium features lots of cool indoor aquatic facilities, including a 20-foot loop slide, lazy river, 25-yard lap pool, zero-depth entry pool, and even a "spray & play" feature (think indoor aquatic jungle gym). There's also a whirlpool, sauna, and steam room available as well.
Another unique Rec Center feature is the 33-foot tall indoor climbing and bouldering wall. The wall is a fun challenge for all abilities, with climber's clinics and certifications, belay classes and belay rides, bouldering, and staffed climbing wall hours available.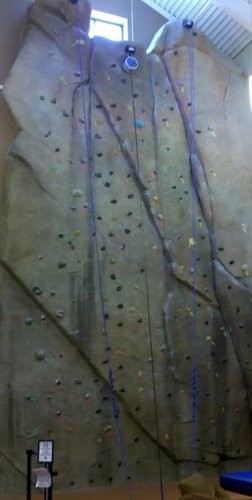 An open gymnasium provides indoor courts for basketball, volleyball, and other sports. A 1/14 mile walking and running track loops above the indoor courts as well.
Also available at the Rec Center is an extensive fitness facility complete with treadmills, elliptical machines, upper body ergometers, upright and recumbent bicycles, and rowing machines. Dumbbells, kettlebells, free weights, and other strength equipment are also available for use.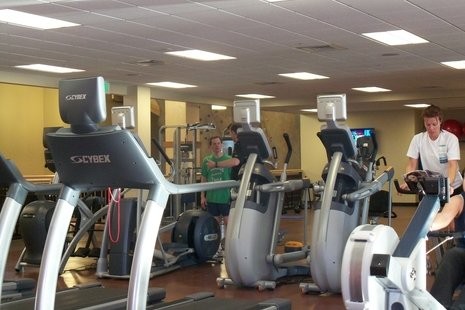 The Rec Center even features a gymnastics studio complete with a trampoline and foam pit. A variety of gymnastic classes are available for all ages and abilities. Rec Center guests must be registered for a gymnastics class to use the gymnastics and trampoline studio, so be sure to sign up for studio access.
Speaking of classes – the Rec Center actually offers a wide array of personal training and group fitness classes, including gymnastics, yoga, aerobic, dance, and spin classes. Classes are available for virtually all ages and abilities, from children to senior citizens.
In fact, the Rec Center even offers a "Silver Sneakers" membership program for seniors. This program is designed to encourage physical activity and social events for senior citizens, and offers customized fitness classes tailored just for Silver Sneakers. More yet, these classes are free to Silver Sneaker members!
The Rec Center's facilities are even available to rent for birthday parties, events, and other special occasions. The Rec Center's pools, studios, and courts are the perfect place for unique and exciting party!
And perhaps best of all – the Grand Park Community Recreation Center's convenient Village location is right on the edge of Grand Park's open spaces, which makes the Rec Center just a stone's throw from Grand Park's homes. That's right – you can walk, bike, or even cross-country ski to the Rec Center and back to your mountain home in Grand Park! Yet another reason why Grand Park is some of the best real estate in the Winter Park area!
Photo credit/for more Rec Center info: click here to visit the Grand Park Community Recreation Center's website.
For more info about the Grand Park community, call us today at 970-726-8700 or email us at info@grandparkco.com.