What is Disc Golf?
Disc Golf is a fun sport great for all ages and abilities. Similar to golf, this sport involves players throwing golf discs (small frisbees) toward a disc pole hole or basket. Courses are typically made up of 9 or 18 "holes" and the player with the lowest combined score wins. Learn more about Disc Golfing here.
Just as the object of regular golf is to hit a ball into a hole, the object of disc golf is to throw a disc into each hole (the "hole" in disc golf being a basket-shaped target). After teeing off, each consecutive throw must be thrown from the last spot a player's throw landed. Like regular golf, the goal in disc golf is to complete the course with the fewest throws possible. There are also specialized discs to use for each type of throw, such as drivers, approach discs, and putters.
Grand Park Disc Golf
Grand Park's beautiful open spaces offer many enjoyable recreation opportunities, and our disc golf course is no exception. We offer a free 18-hole disc golf course that runs between 4,365 and 5,665ft in length. Park at the parking lot East of the Grand Park Recreation center and stop by the gas station to get a course map. If you are in need of discs, stop by the Grand Park Recreation Center to rent discs for $5.
Unlike regular golf, there are no greens fees or tee times to worry about. Our disc golf course is free for Grand Park residents to use at their leisure! Disc golfing is also easy to learn, and is fun for all ages and abilities. A round can be as relaxing or as competitive as players would like. Additionally, disc golf is good exercise, and is a fantastic excuse just to enjoy the outdoors for a couple hours.
Best of all, our disc golf course is right out your back door in Grand Park! The course is ideally located for our residents, nestled in the open space between the Cozens Meadow neighborhood and the Grand Park Village.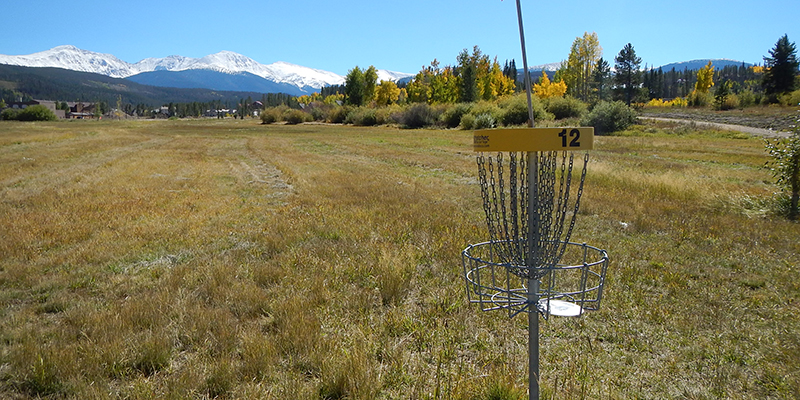 What Do You Need for Disc Golf?
Discs – Similar to Golf, disc golfers use a variety of discs suited for the distance they are going for. The types of discs include, distance drivers, fairway drivers, mid-range discs, and then putt and approach. However if you are just looking to play for fun a Frisbee for each player will work perfectly.
Water – Just like any sport, stay hydrated. Colorado is hot and dry in the summer and disc golf can be a challenging and dehydrating sport.
Sun Protection – If playing during the day use sunscreen, hats, sunglasses. Being at such a high elevation the sun's rays are much stronger. It is important to protect yourself and avoid burns and heat stroke.
Comfortable Shoes – Like golfing, you'll be walking from "hole" to "hole" so you'll want comfortable shoes.
Competition – The people you play with are the ones who make disc golf fun. Bring your buddies, family members, coworkers, or even dogs (if the course allows) to ensure you have a good time!

Other Options for Winter Park Disc Golf
Winter Park is home to a 20-hole disc golf course that requires people to pay to play but includes a chairlift ride to the top where the course is. This is a fairly technical course with great views and steep inclines.
There are a variety of Disc Golf Courses in the Winter Park, Colorado area, and even more if you head West on 40. Check out DG Course Review for a full list of courses.