Best Time To Ski in Colorado
Colorado offers some of the country's most beautiful and exciting ski resorts and lodges, and it is certainly no secret that ski tourists flock to this area each and every year. For the 5th year in a row Colorado has hosted a record number of tourists reaching 77.7 million in 2015. Within the tourism industry Colorado is nearly doubling the national recovery average of 16% with a grow rate of 31%! In 2014,  of all the ski lodges in the country, Colorado resorts saw 21% of the total overnight ski trips in the country; a record high!
With the massive interest in Colorado ski areas, it can be hard to find the perfect time to ski Colorado and avoid the large crowds, get a good rate, and ski on the best conditions possible. However, skiers fear not, because we will give you the ultimate guide to finding the best time to ski in Colorado.


The Holiday Rush
Skiing, as with any other popular winter attraction, is best to be avoided during the time between the Holidays and New Year's Day.
During this time period, the rates are much higher than average and the mountains are over-crowded. As you can see detailed in the image below there is a dramatic price increase from early December to late December (Christmas time) of about $240/night.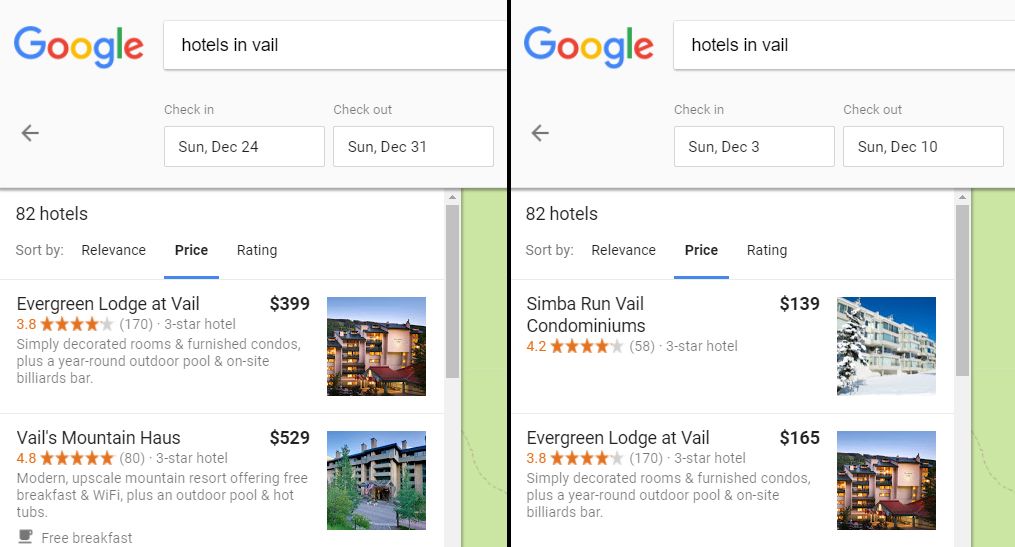 For this reason, it is very important to avoid Holidays and check hotel prices for the  time you are arriving. 
If you are dead-set on spending your holidays skiing in the mountains of Colorado, you can definitely make that happen, but it will have to come with a premium in both price and patience. As another example, here is the range of nightly rates for a family of four at the Winter Park Resort during the Winter Holidays, compared to the same nightly rates for a stay after the New Year:
December 18 through December 24: $140 – $501 per night
January 24 through January 30: $70.83 – $400 per night
As you can see, the savings in January can be up to a 50% discount off of the same rooms during the Winter Holidays.  With all of that extra money saved, there will be plenty left over for a night out, a new set of skis, or a new winter coat.

Booking in Advance
If you choose to book early and you can afford to plan a trip months in advance, you can save up to 30% at most resorts with an early booking discount code on your lodging.
This is a great way to maximize savings and keep your wallet out of harm's way. Additionally, if you can check the weather report and book your ski lift tickets just one week in advance, you can save over $60 on ski lift tickets. Tickets for the ski lift can average as much as $300 per person in peak season, so booking your tickets early can drop that down to a much more reasonable price point, especially for larger groups and families.
To recap, just remember these important points. One, book your vacation early, but after the holidays. Sometime between January and March is the best value. Two, check the weather report a week in advance and pick a couple of days to pre-purchase your lift tickets. For most resorts, this must be done 7 days in advance, so don't wait!

The Savings Are Great, But How Are The Conditions?
Now, I know you're thinking "Sure, the savings are hard to beat, but are the conditions really better after the Holidays?" It is a valid concern, but you will have nothing to worry about! In the table below, you can clearly see that snow continues to fall in Colorado's ski country all the way through January and February, even well into March.
These numbers can fluctuate every year, but it is a guarantee that there will be plenty of snow depth from January to March.
| | | | | |
| --- | --- | --- | --- | --- |
| Resort | December | January | February | March |
| Winter Park | 67 | 30 | 52 | 30 |
| Breckenridge | 58 | 34 | 66 | 35 |
| Vail | 57 | 18 | 57 | 31 |
Data from: www.onthesnow.com (based on 2015 totals)
When you couple this data with the fact that the largest cities in Colorado average between 10-13 clear, sunny days per month from January to March, and an average temperature that can reach up to 30 degrees, there is no way that your post-holiday ski trip won't be full of amazing weather and perfect mountain conditions.
In Conclusion…
January to March are the best times to ski in Colorado!
If you want to have the best vacation experience in Colorado's ski country, book far in advance sometime between January and March, and you will get the lowest rates, the best temperature and slope conditions, the cheapest ski lift tickets (remember, one week in advance) and a calm relaxing experience away from the crowded holiday season. It is the all-in-one package, and it cannot be beat!