The idea behind Grand Park was sparked from a vision of creating a brand new, affordable mountain living community in the mountains of Winter Park, CO. The transformation is happening right now and it won't be long before our dreams for the entire community come to life! The conceptual map below shows all 1,700 acres of Grand Park—interconnected neighborhoods, nearly 500 acres of open space, a pedestrian-friendly village and miles and miles of trails just 2.5 miles from Winter Park Ski Resort: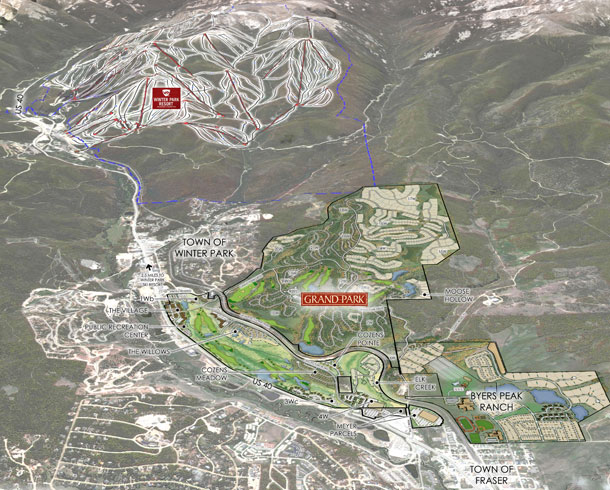 Our vision for Grand Park developed from a few good ideas. We wanted to create a community that looks to the future while embracing the area's pristine beauty and rich past. We believe in creating living places and public spaces that make people feel good so they feel connected to them. Grand Park strives to capture the best elements of premier mountain resorts, which are world-class outdoor recreation, luxury mountain homes, and a vibrant town center. The town itself is a fast-growing community which makes each of our homes a fantastic Winter Park investment property. Another aspect of our vision came from the idea of affordable mountain living. While places like Breckenridge and Vail seem to boast a million dollar price tag for a house in the area, our aim is to open up the opportunity to have a mountain home to a wider audience. We also don't particularly enjoy the I-70 traffic choke point at the Eisenhower Tunnel which causes traffic to back up for hours! From these beliefs, Grand Park was born, transforming great ideas into a new way of mountain living.
If you would like to learn more about the Grand Park Community don't hesitate to contact us today!