Best Glamping in Colorado Destinations
Colorado is one of the top destinations in the United States for glamping. With stunning landscapes and scenery, travelers are eager to experience the Centennial State from the best modern luxury campsites, where they can glamp to their heart's content.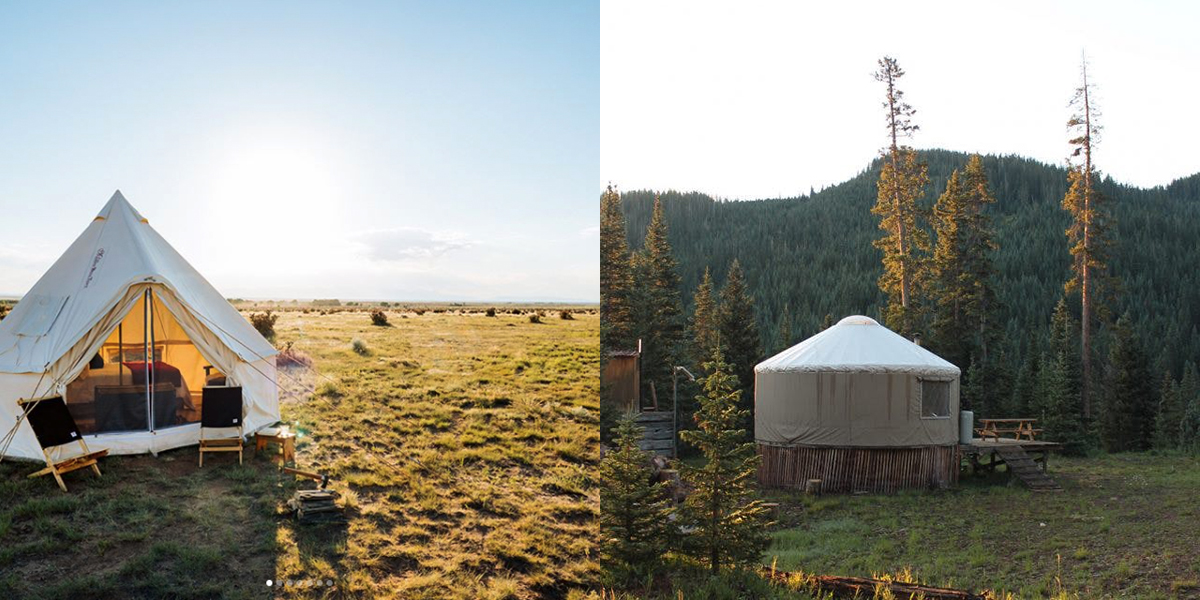 What is Glamping?
Glamping, or glamorous camping, is a camping trip without sacrificing creature comforts. Typically glampers will stay in a cabin, lodge, luxury tent or yurt. Modern luxuries are blended seamlessly with outdoor experiences in nature, throughout some of the worlds most sought after destinations.
While glamping, travelers can truly enjoy the scenery and outdoor experiences in each location, while having access to running water, beds and kitchens.
Because of the many natural wonders, rivers, mountains, and parks in Colorado, it is a popular glamping destination. Here are four of the top glamping destinations in the state. 
Living Airstream

For a truly iconic glamping experience, consider renting a classic or vintage Airstream trailer from Living Airstream in Denver. The instantly recognizable "silver bullet" trailer is ideal for road trips or pulling up into your preferred campsite.
Each Airstream trailer has a bed, or sofa beds, a dining table, linens and a bathroom with a shower.
The company also offers add-ons such as stocking the trailer fully with plates, silverware, and glassware for your use. The trailers start at $200 a night, and the company can also rent out vehicles to tow the trailer for your convenience. Even more convenient? Living Airstream will deliver the trailer to you at a location of your choosing!
Zapata Ranch

This historic ranch is a highly sought-after destination for glampers. The sprawling lodge on the ranch holds 17 rooms in total, and guests are given a five-star treatment during their stay.
When staying on the working cattle ranch, guests will wake up to breakfast in their rooms, and then enjoy one of several experiences on the ranch, including horseback riding.
Through Mid-May- September, guests will also have the opportunity to camp out underneath the stars in the 50,000-acre bison pasture. 
Zapata Ranch is located four hours southwest of Denver in Mosca, Co.
The Pass Creek Yurt

The Pass Creek Yurt is a one-of-a-kind glamping experience.
Travelers will stay in a solar-powered yurt, after hiking or biking one mile through the wildflower strewn trails.
In the winter, you will enjoy a three mile ski to the destination, ensuring you are completely surrounded by the wilderness. This glamping location is a little more simple than other locations on the list, but is well worth the experience.
The yurt sleeps  6, with twin sized bunk beds for which you will need to provide sleeping bags. The kitchen stocks cleaning, eating and cooking supplies so your pack will remain light for the long trek to the cabin. Solar powered lights illuminate nighttime activities. There is a seating area on the deck as well as a fire pit. Finally, the yurt features a solar shower.
It's the perfect hideaway for skiing or fly fishing in the heart of southwest Colorado. This serene yurt experience is a one of a kind way to enjoy the stunning scenery of Colorado's Continental Divide!
River Haven

River Haven is the perfect setting for a group of glampers who want to get away into nature. Featuring two houses- the Main House and Little House- the property sleeps up to 14 guests comfortably with a mix of King and Queen size beds. There are bathrooms and showers available, and the kitchen in both houses is equipped with coffee makers and blenders. 
The property has 800 feet of riverfront access to the Arkansas River and is perfect for fly-fishing, paddle-boarding, and kayaking.
The surrounding area is also excellent for mountain biking and hiking. In the winter, there are nearby skiing slopes. It is the perfect retreat for a family or party to enjoy the beautiful outdoor adventures Colorado has to offer. 
River Haven is approximately two and a half hours southeast of Denver.